What is AggieCinema.TAMU.edu?
AggieCinema.TAMU.edu is a movies on demand site that MSC Aggie Cinema provides for Texas A&M. You get free access to movies and TV shows available 24/7.
What is MSC Aggie Cinema?
MSC Aggie Cinema is a student organization within the Memorial Student Center. The committee aims to engage Texas A&M students by producing year-round entertaining, cultural, and educational programs that bring the best of cinema through our Blockbuster, Arthouse, Classic Series, Advanced Screenings, AggieCinema.TAMU.edu streaming site, and other special events. MSC Aggie Cinema is composed of three subcommittees allowing it's members to serve the organization, campus, and the community through hands-on event management experience. Interested in joining? visit our Membership page.
How does it work?
Step 1: Login in to any main campus TAMU Wifi, like TAMU_Wifi.
Step 2: Open a browser and enter AggieCinema.tamu.edu in your address bar.
Step 3: Select Signin with School Account, then enter your TAMU Net ID and Password, hit submit.
Step 4: Be sure to check your DUO Mobile app too approve your request.
Step 5: Browse or search for a movie, and then press play.
I can't access AggieCinema.tamu.edu from my device
AggieCinema.TAMU.edu is supported by Windows, Chrome, Firefox, and Edge. If you are using Safari on MacOS and having issues, try using a different browser.
Second, make sure you're connected to a TAMU WiFi network like TAMU_Wifi.
If you still can't get the Wifi connection you might need to contact Help Desk Central.
Can I watch movies with captions or in different languages.
Yes. Once the main title is playing click the settings icon at the bottom right corner, the Audio and Subtitle menu will open up. Choose your settings and enjoy!
Please note, not all films are availble in all languages or with all subtitle options.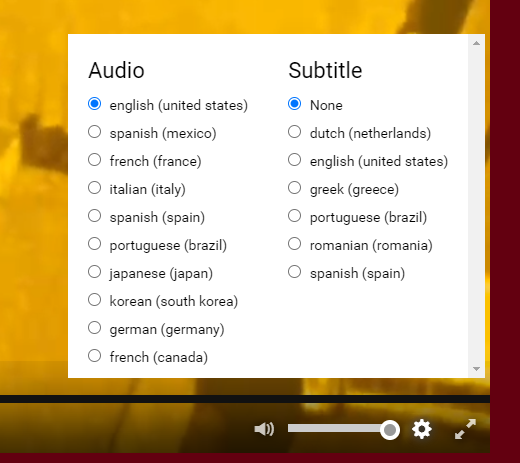 Will there be new movies?
Our selections include new release titles, and once a month we will share a poll on our social media asking you to vote on the movies we add next month. To help us pick which movies you want to see, follow us on Facebook, Instagram, or Twitter.
Can my Campus Organization or Department advertise on AggieCinema.tamu.edu?
Yes. We offer short 20-30 second film advertising placement at the beginning of each film. If you want to advertise an upcoming campus event or something else related to campus life, email cinema@msc.tamu.edu (subject: Aggie Cinema Ads) for pricing and placement options. Film ads must be less than 30 seconds. Advertisement approval is managed by MSC Aggie Cinema students and their MSC Staff Advisor. Only approved ads will be accepted.
Can I watch movies with a group?
You can watch movies together with your friends and roommates in your own residence. Unfortunately, the movies on the site are not licensed to share with student clubs, committees, organizations, or other groups in a public space (including MSC rooms, Rudder Complex, TAMU Libraries, etc.) regardless of the number of people watching. If you have questions about showing movies to groups please reach out to cinema@msc.tamu.edu or contact us through our contact page.